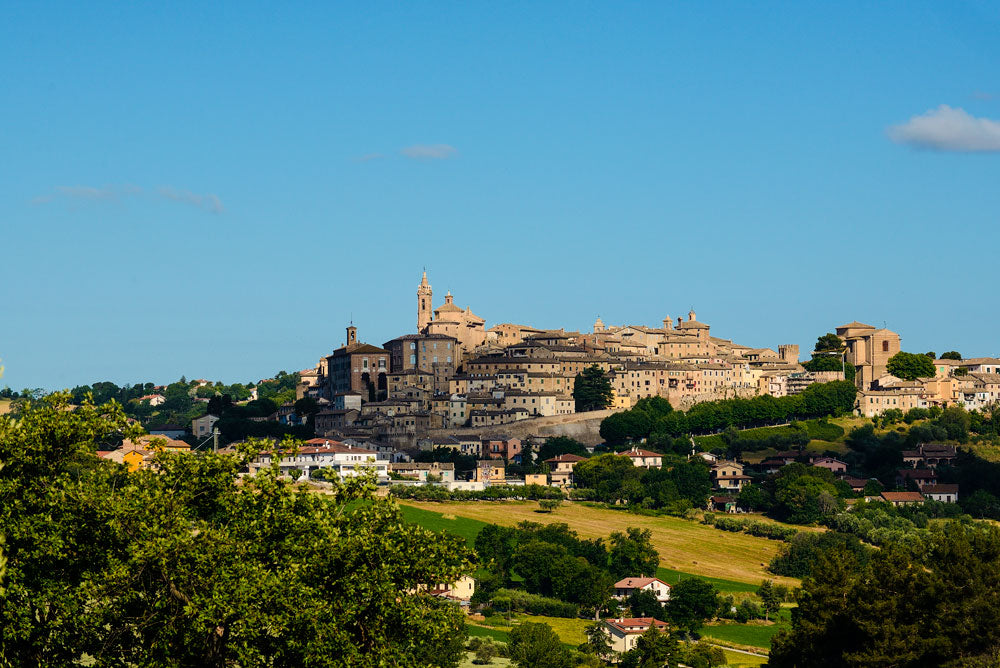 Last week we paid a visit to Marche on Italy's Adriatic coast to check in with one of the newest producers in our import portfolio, Tenuta Mattei. Set atop one of Marche's countless hills and with sweeping views out to the stunning medieval village of Corinaldo in one direction and the shimmering azure blue of the Adriatic in the other, this is one picturesque place to grow grapes. 

The vineyards themselves are equally beautiful, teeming with butterflies and other insects that are attracted by the long grass, flowers, olive and chestnut trees that are grown in abundance among and around the vines. This is the work of current custodian Danilo Mattei, who took over the family farm in 1980s and has tended the vines organically for over 30 years.

With the historic centre of Jesi less 30km away, this is prime Verdicchio dei Castillo di Jesi territory but Danilo also grows the beguiling local varieties Lacrima and Passerina, as well as Pecorino, Montepulciano and Sangiovese, all on hillside sites composed of clay soils laced with marine fossils.
Vinification takes place entirely in stainless steel tanks in Danilo's cavernous underground cellar beneath the old family home, where temperatures naturally moderate at around 20 degrees, even in the peak of summer. Having just managed to snap up the last of Danilo's 2021s for our first order, we were delighted to see the early promise of the newly bottled 2022s which we hope to ship a larger range of later in the year. For now we have three gorgeous wines from Tenuta Mattei available:Verdicchio dei Castillo di Jesi: Crisp, textured Verdicchio with preserved lemon, green apple and almond aromas and touches of baking spices on the linear, lightly saline palate.Passerina Marche Bianco: Passerina is an ancient Marche variety prized for producing wines of intense minerality. This one also has a lovely floral bouquet of lilies and acacia as well as zesty grapefruit acidity.Lacrima di Morro d'Alba: This is the Lacrima, a vivid, intensely aromatic wine with floral aromas of roses and violets alongside wild cherries, crushed raspberries and sappy pine.