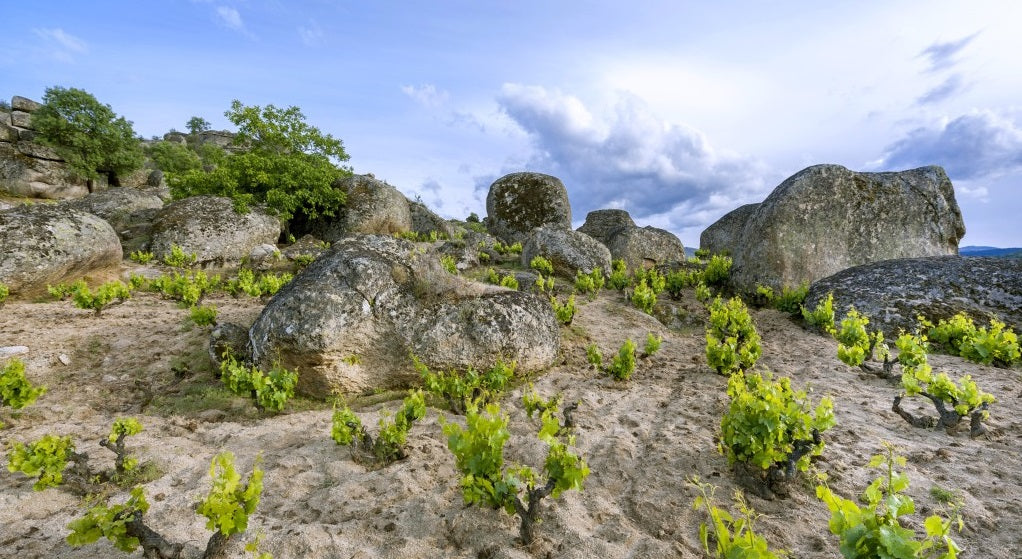 Visiting wineries and growers in France and Portugal recently, it's striking how often the very first thing a winemaker will show you is the thing beneath your feet - the soil. Pick up a rock (as we did with the famous galets roulés of Châteauneuf-du-Pape last week), crumble some chalky limestone between your fingers, or simply feel the crunch of a million sea shells as you walk, and you'll begin to understand the wines. That's what the winemaker is telling you. Though terroir encompasses many things, soil type is perhaps the most fundamental, influencing where to plant, what to plant, and ultimately the flavour, structure and quality of the wine that can be produced. Chablis and Kimmeridgean limestone, Coonawarra Cabernet and red clay, Lanzarote Listan and volcanic ash (pictured above) - it's the soil that makes the wine. Today we look at wines borne of one of the great and most prolific soils of viticulture, granite.
Granite is a volcanic rock formed by magma cooling slowly beneath the earth's surface and is known for its high quartz content and a variety of other minerals, such as feldspar and mica. These minerals impart specific characteristics to the soil, which, in turn, influence the grapes grown in it.
At a basic level, granite soils are prized for their exceptional ability to drain quickly and prevent excess water retention. This helps control vine vigour, in turn leading to grapes with more layered and intense flavours and aromas as the vine focuses on producing fewer, smaller, and more concentrated grapes. Fast drainage also encourages grapevines to develop deep root systems, accessing various layers of minerals within the soil, and this complex mineral composition can go on to have a profound effect on the wine's taste. Minerals such as potassium, magnesium and iron can be absorbed by grapevines, and can lend wines a heightened sense of minerality, salinity and acidity.  In the best wines from granite soils this translates into wines that draw you inescapably towards their roots (wet stones, crushed rocks, cool steel), and at the same time explode with a bright, crunchy and primary juiciness to the fruit that makes them downright delectable in an immediate, sensual way. Thankfully for us, granite soils are fairly easy to come by, and winemakers from Beaujolais and the northern Rhône in France, Dão and Douro in Portugal, Priorat and Rías Baixas in Spain, and many others places around the world have long harnessed its powers to make high quality wines for our enjoyment. Find a few of our top picks below.
Daniel Bouland Morgon 'Bellevue Cailloux' (£27.50)
Daniel Bouland makes some of the finest and long-lived wines in Beaujolais from 60 to 100 year old Gamay vines planted on the steep slopes of Corcelette, Morgon. All grapes are hand-harvested and fermented in whole clusters with natural yeasts in old foudres before bottling without filtration.
Bellevue is one of the highest sites in Corcelette and the Cailloux bottling comes from old vines 80+ years of age planted straight into the granite bedrock. Beautifully supple red cherry and blackberry fruit with a sublime texture and an intense granitic mineral edge.
Domaine Séléné Côte be Brouilly (£31)Sylvère Trichard of Domaine Séléné is something of a rising star in Beaujolais, working naturally to craft wines that are refined and polished. Free-standing goblet vines are left with grass and wildflowers to grow beneath, the strips in between are maintained simply with a mower - no ploughs or machinery here.
This is his Côte de Brouilly from a plot of Gamay grown on porous sand and decomposed granite. It undergoes a short 10 day carbonic maceration and is probably the deepest, most concentrated of the cuvées with dark cherry fruit, hints of liquorice and a pronounced dusting of black pepper.
Alvaro Castro is a maverick self-trained winemaker, and a pioneer of quality estate wine growing in the Dão region of Portugal. Inheriting vineyards in 1980, Alvaro was joined by his daughter Maria Castro in 2000, who now oversees winemaking and the vineyards, which have been cultivated without chemicals for many years. 
The Dão Tinto is a beautifully vibrant, bright and juicy red made from native Portuguese varieties Alfrocheiro, Touriga-Nacional and Jaen planted in granite soil with sand, clay and quartz at an average altitude of 550m.
Els Bigotis del Gat Priorat (£24)Els Bigotis del Gat is the project of Steve Colombe, an Englishman who we were introduced to by his daughter and son in law who happen to be regular visitors to Gnarly Vines. A blend of Carignan, Syrah and Cabernet Sauvignon from the famous Priorat region west of Barcelona where the vines struggle through cracks in the granite rock. Very mineral with smoky black fruit, leather and tobacco notes. Full bodied but smooth, easy drinking.
Eulogio Pomares Sal da Terra Albariño (£30)Eulogio Pomares of Bodegas Zárate is located in the Val do Salnes, a sub-region of Rías Baixas named after the 'sal' (salt) the Romans used to harvest there. He is widely considered to be one of the most important producers of Albariño today, and works with low intervention to produced wines renowned for their Atlantic freshness and age-worthiness.
Sal da Terra is made from Albariño grown in a yellowish, iron-rich granite soil referred to locally as xabre. Pure and exhilarating with crystalline citrus fruit, an intense salty twang and a steely minerality to the finish.
Rogue Vine Grand Itata Blanco (£19)
Rogue Vine is a collaboration between Chilean Leonardo Erazo Lynch and American Justin Decker who are working to rehabilitate old bush vines up to 120 year olds in the historic Itata Valley in Chile's south.
The Grand Itata white is an intensely perfumed and engaging blend of Riesling and Semillon from a steep granitic hillside plot only 18km from the Pacific Ocean. Fermented with native yeasts without temperature control, expect saline peach, white flower and lychee aromas with plenty of stoney minerality.
António Madeira Dão Branco (£29)
António Madeira is a star of biodynamic winemaking in Dão, working with indigenous varieties and vinifying each plot separately to reveal its individual character.
A blend of native grapes from all of António's vineyards, where vines are aged from 50 to 120 years. Rich and textural with a touch of green olive salinity, this is an emphatically mineral wine that reflects its granite terroir and proximity to the ocean. Best enjoyed with food.
Mother Rock Force Celeste Chenin (£19)Johan Meyer of Mother Rock is a leading light in South Africa's fast-growing natural wine scene, and together with like minded growers Testalonga and Intellego, has built a movement from the ground up in Swartland working with the old bush vines that thrive in this arid landscape.
This is an amazing value Chenin Blanc from a single plot of 30-35 year old bush vines grown in decomposed granite. Wet stones, pear and honey aromas up front with a touch of walnut. Gentle spice notes on the palate from ageing in old oak as well as some brisk green apple acidity