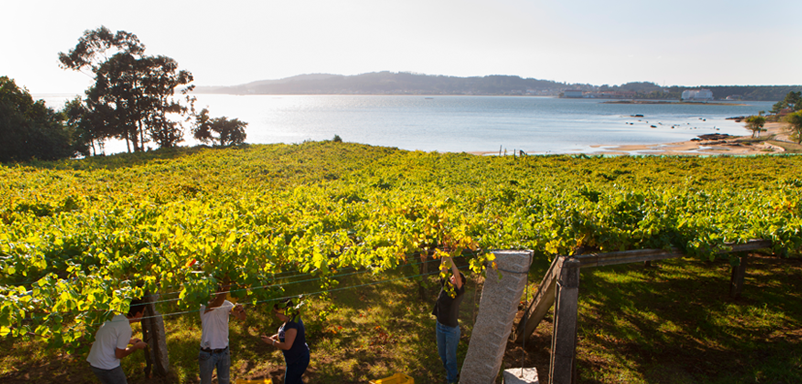 Chances are if you hang around a wine shop or bar a while, it won't be long before you hear a wine described as saline, or just downright salty. In many ways, salinity in wine has been hinted at for years: Chablis is often described as redolent of oyster shells, fino and manzanilla sherry of salted almonds, while Galician Albariño and Greek Asyrtiko are commonly said to smell of sea spray or sea breeze. More recently however, there has been a move embrace the catch-all terms salty and saline, so what does it all mean, and is salt actually in your wine? The short answer, is yes.

Though the science behind our actual perception of salinity is complicated and somewhat enigmatic, the processes by which salt can find its way into vines, grapes, and eventually wine, turn out to be fairly straight forward. As Roberto Taibo of Moraima in the aptly named Val do Salnés, Rías Baixas puts it: "the wind and rain coming in from the Atlantic are rich in chloride and other salts of the sea, this influences the soil, little by little adding chlorides, phosphates, and sulfates, as well as potassium, sodium, calcium and other salts".
A similar process takes place in Jerez, where the Palomino vines grow in chalky white
albariza

 
soils known to be highly concentrated with sodium, potassium, magnesium, and other salts. The final perception of salinity in sherry is then magnified by the yeast flor under which the wines age, which consumes glycerol and un-fermentable sugars, both of which otherwise moderate or perception of saltiness. As an aside, this is why we tend to associate salinity more with white wine than red: the perception of sweetness (think juicy berry flavours in red) reduces our perception of salinity, while acidity (think zesty, citrusy whites) increases it.
In other coastal areas of Greece, Portugal, France and the Canaries, the interplay can be even more simple, with wind, rain and mist - often more pronounced as harvest approaches - depositing salt particles directly onto the grapes that then seep into the juice when the grapes are pressed in the cellar. If you've ever experienced the heavy morning mist along the Atlantic coasts of Portugal or France that regularly coats everything (including the towels you left outside) in a damp, salty film, you might intuit this one!
So there it is, your wine really can - and does - taste salty. And not only that, but in tandem with the similarly
à la mode
 minerality, can contribute hugely to our enjoyment of wine by imbuing it with those ineffable qualities of charm, savouriness, sense of place, and terroir. Either that or we're all just salt fiends. Check out a few of our top picks for your next salty wine fix below.
Tetramythos Kyrenia (£17): Panagiotis Papagiannopoulos of Tetramythos makes wine in the rugged mountain vineyards of the northern Peloponnese. He crafts vigorous, saline wines from these high altitude sites (850m!) that are cooled by the sea breezes coming in from the Gulf of Corinth.  This is the local pink-hued white variety Roditis aged on the lees for six months in stainless steel. A savoury, mineral wine with aromas of lemon blossom and bergamot.
Zárate Albariño (£21): Bodegas Zárate is located in the Val do Salnes, named after the 'sal' (salt) the Romans used to harvest there, and home to around 70% of the regional production. The vineyards are worked organically and there is a low intervention approach in the cellar. This is the flagship Albariño; focused and linear with a sea spray Atlantic freshness, fine structure and zesty green apple and lime fruit.