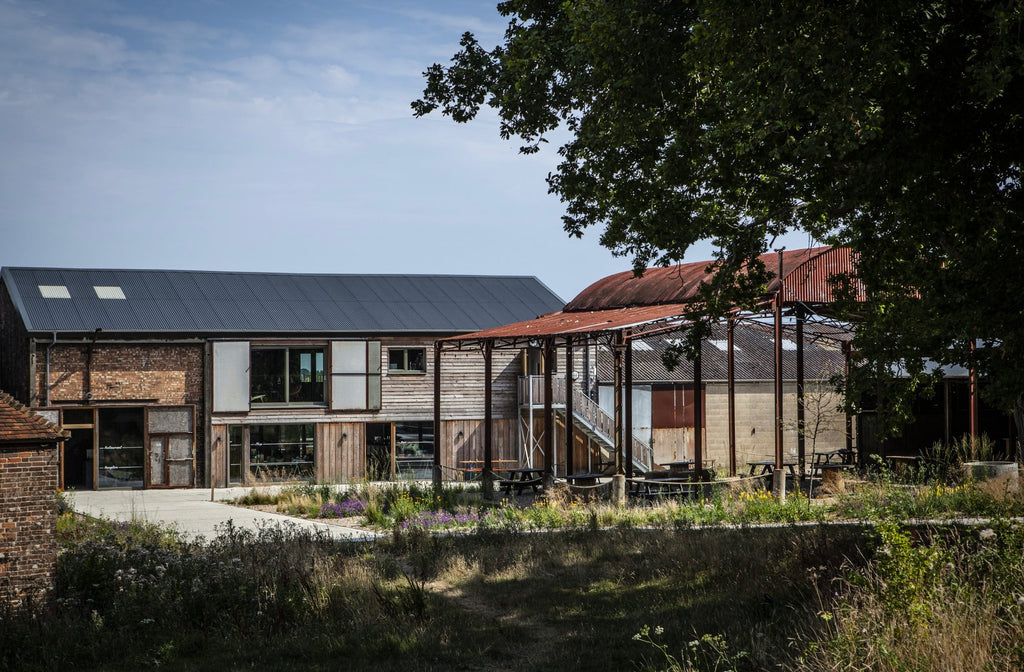 Despite drastically reduced crops from the treacherous UK growing season in 2021, the reception we've had to our UK offering this year has been better than ever. The trailblazing wines of Nicola and Dan at Offbeat continue to push new boundaries, Davenport remain consistently excellent, and the emergence of Lucie and Jules at Ham Street Wines in Kent has been a truly exciting development. Over in East Sussex, Tillingham have continued to enhance their reputation as one of the leading lights in UK winemaking, with updated vintages of old favourites, and couple of eye-opening new ones.  For the uninitiated, Tillingham is the regenerative winemaking project of Ben Walgate, set amongst 70 acres of rolling hills and woodland just outside Rye. While naturally our focus here is on the wine, the approach at Tillingham is based on polyculture, with grain, vegetables, fruit trees and livestock also present. A combination of greater demand here and abroad and the lack of fruit from 2021 has meant much of what we have received from Tillingham throughout the year has come in drips and drabs, so we are pleased to be able to round out the year with an offering of 7 cuvées from Ben and the team, albeit in very limited quantities. 
Cider Pétillant Naturel (£18): A new one for us this year, a wild fermented, unfined, unfiltered and unsulphured pét nat cider made from a blend of apples including Yarlington Mill and Chisel. Amber in colour with zesty mandarin, honeysuckle and earthy turmeric notes on the nose and palate with soft tannins and fine bubbles.
Field Blend One (50cl, £31): A blend of six aromatic white varietals harvested exclusively from Tillingham's own biodynamically farmed estate vineyards. Grapes are hand sorted then whole bunches are trodden by foot, soaked for twenty-four hours and pressed straight to five-year-old barrels for fermentation. Rose gold in appearance with lifted aromas of elderflower, greengage and pear with rounded acidity and a touch of grip on the palate from the skin contact.
Col '21 (£33): Col 21 is Ben's Col Fondo (with lees) sparkling wine made from a 50-50 blend of Seyval Blanc and Auxerrois grown along regenerative principles in Suffolk. A hazy, pale green gold in appearance with preserved lemon and green apple aromas leading onto a zippy, lightly creamy palate.
End Grain (£35): End Grain is a blend of Bacchus, Madeline Angevine, Ortega and Muller Thurgau all vinified separately and blended together before bottling with the Ortega and Madeline Angevine macerated on skins. Left unfined and unfiltered, it's hazy in appearance and briming with elderflower, citrus, white peach and spice aromas. Saline and zesty on the palate with some grip from the skin contact.
Pinot Blanc (£38): The Pinot Blanc is made with 50% whole bunches pressed and fermented in qvevri and 50% crushed and de-stemmed with four days skin maceration. Waxy lime and a touch of white floral character on the nose. Textured, saline and slightly oily on the palate with zesty acidity and a mineral grip.
Flor (£43): Flor is made from a blend of Chardonnay from 2019 and 2020, both whole-bunch pressed and fermented and aged in old oak. During the ageing process, neither have been topped up and as a result have been ageing under flor.​​​​​​​​ Nutty and saline, with notes of sherry-esque oxidation. On the palate the wine has bright acidity, balanced by a richly textured finish, and a sweet twist from the barrel influence.