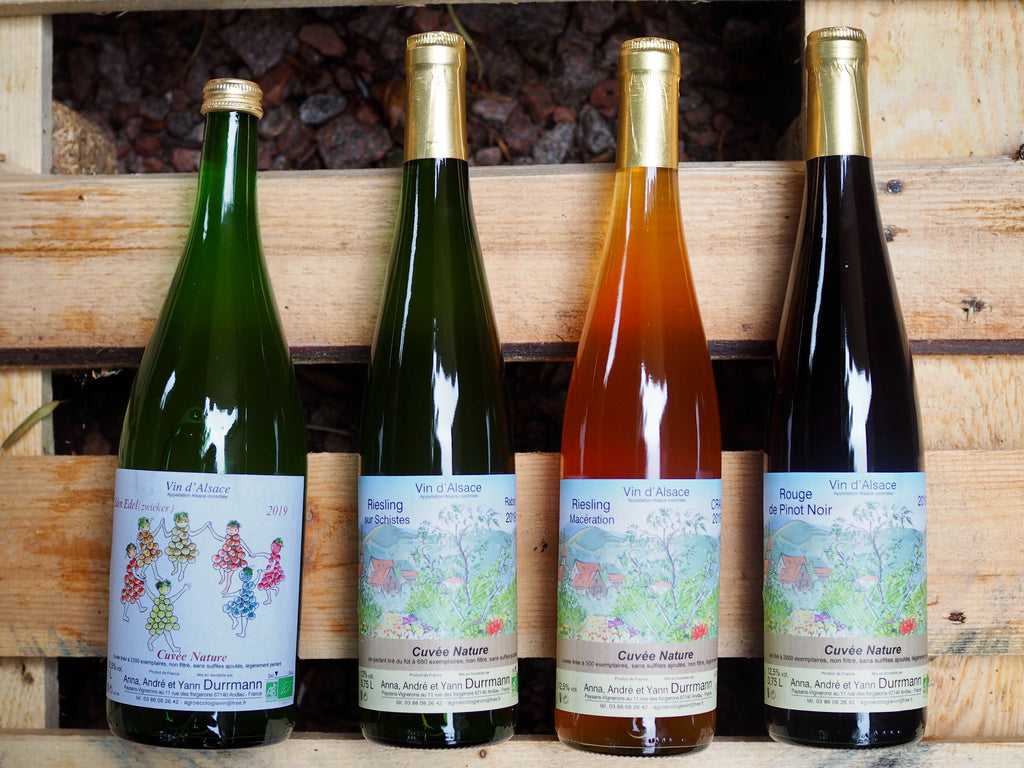 Here we introduce two outstanding Alsace winemakers, one new to these shores and the other whose new vintages we await with much anticipation every year.
Christophe Lindenlaub is a new producer for us, making wine from a patchwork of vineyards around the Dorlisheim hills in Alsace, known for their clay and limestone soils. He takes a zero-zero approach to his winemaking, so no herbicides or pesticides in the vineyard and no chemicals, fining or filtration in the cellar. Though all totally unique, Christophe's wines invariably have great energy and tension, with nervy acidity, vibrant fruit and saline minerality. 
We have four wines currently available from Christophe in store and online: En Equilibre, a precise and mineral Riesling with lemon and orange blossom aromas backed up by hints of mint and kerosene on the palate; De L'Autre Cote, Christophe's beautiful example of Auxerrois; clean and taut with pear, white peach and grass aromas; Je suis au jardin, a heady and intoxicating raisin and souk spice scented Muscat, and Des Racines, his spicy and intense Pinot Gris with ripe pear, quince and nougat aromas leading to rich and silky palate.

Doubling down on Alsace, we've also received some highly anticipated new vintages from Domaine Durrmann. The Durrmann family make wine from their old family house in the middle of Andlau, a beautiful village nestled on the first slopes of the Vosges mountains south-west of Strasbourg. The family are true eco warriors, only having electric cars and using solar energy for hot water and heating. Father André was among the first wave of organic winemakers in Alsace, converting in 1998, and son Yann has taken this a step further by applying a natural, minimal intervention approach in the cellar.

As well as Domaine Durrmann's cult Pinot Noir and Riesling, we've received two new cuvees, Crax, an orange Riesling that is macerated on skins for 2 weeks and aged for 10 months in old oak and Edelzwicker, a light and breezy blend of Sylvaner and Gerwurztraminer bottled by the litre and singing with zesty citrus, peach and melon. 
View our selection of Alsace wines from Lindenlaub and Durrmann as well as Scherer, Rietsch, Ginglinger and more below.