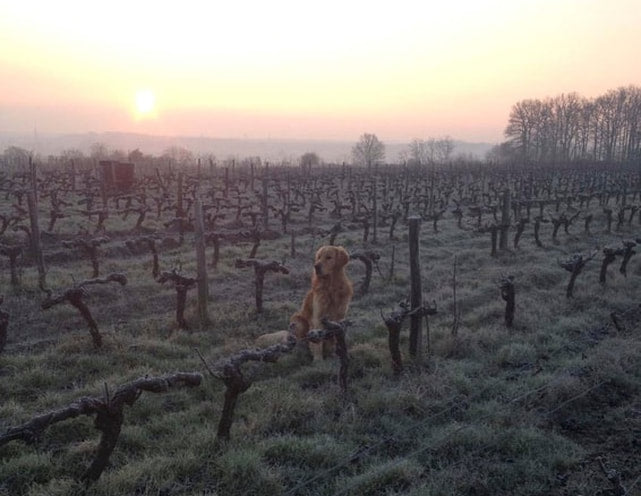 The Loire is a hotbed for natural winemaking, with a plethora of local varieties capable of extraordinary things from international hits like Chenin Blanc and Cabernet Franc to lesser know but equally exciting varieties such as Pineau d'Aunis and Grolleau. Here we profile three of our favourite winemakers making some of the most enchanting wines we're yet to come across.
Francois Saint-Lo began working in restaurants and wine bars before diving headlong into winemaking, learning with producers like Olivier Cousin & Eric Dubois and eventually buying his own place near Berrie, approximately 25km south of Saumur. His cellar is basically an ancient ruin that has previously been used for wine production and since 2012 has been slowly restored with the help of friends. Like his mentors, François prefers to work with horses in the vineyards and all other work is done by hand. In the cellar he uses old barrels, fibreglass and a hundred year old curve press that was there when he took over the place. We're very excited about finally stocking some of Francois's unique and sought-after wines in store and online.

Les Pouches is a small parcel of Chenin Blanc situated in an ancient river bed with the vines around 30 years old. A third of the harvest was macerated whole bunch for about 2 weeks, while the rest was directly pressed, with the two blended together a few weeks before bottling. Beautiful texture - amazing fruit, almost tropical but with so much minerality and spicy, nutty complexity. Without doubt, a real treat for all Chenin Blanc enthusiasts! 

Les Bois Guyon is Francois' Cabernet Franc from 80 year old vines grown in limestone. The handpicked grapes are de-stemmed, macerated on skins for 10 days and then pressed into 400 litres barrels where it ages for 2 and a half years before bottling. An enchanting and ethereal wine with lifted, floral aromatics and savoury game, wood and mineral notes on the palate.

From Berrie, we're heading 35 minutes drive north-east to Chouzé-sur-Loire and winemaker Vincent Wallard. Here is where Vincent has settled down after devoting six years to exploring the potential of natural winemaking in Mendoza Valley, Argentina. A long-time advocate of natural winemaking without additives, Vincent makes some of our favourite Loire Valley reds - always on the wild side and with a raw energy that's hard to pin down. These are wines that retain a place in the memory long after the bottle is gone. We're thrilled to share two of his reds.

Le P'tit Nouveau is Vincent's light and ethereal Gamay, packed with green pepper tinged berry aromas and plenty of earthy mineral undertones. An excellent pairing with terrine, poultry or charcuterie.

Tonton Rouge is made from the Loire rarity, Grolleau. It's silky and exotically spiced with snappy red cherry fruit and brims with trademark Vincent Wallard charm - a perfect introduction to his approach to winemaking. 
As our journey through the Loire Valley continues, we head 90 min east of Chouzé-sur-Loire to the quaint. town of Candé-sur-Beuvron and winemaker Olivier Lemasson. Olivier comes from Brittany where he fell in love with wine working for a caviste in Rennes. He went on to spend some time working with Marcel Lapierre in Beaujolais where he learnt more than just the basics and fostered the philosophy of winemaking which he would continue. His wines have been a long-standing favourite of ours at the shop and the latest releases have only cemented his name among the Loire Valley's most respected natural winemakers.
R19 is a crunchy and herbal blend of co-fermented Cabernet Franc and Grolleau made naturally without any additions or filtration. Super fresh and vibrant with just ripe berry aromas and plenty of savoury character. 

Chardon Ne d'Hier is Olivier's sensational natural Chardonnay, lean and elegant with melon, lychee and green apple aromas and a long and chalky citrus finish. A real treat and one that will appeal to Burgundy fans.
Check out our full range of wines from this unique and enchanting region below.