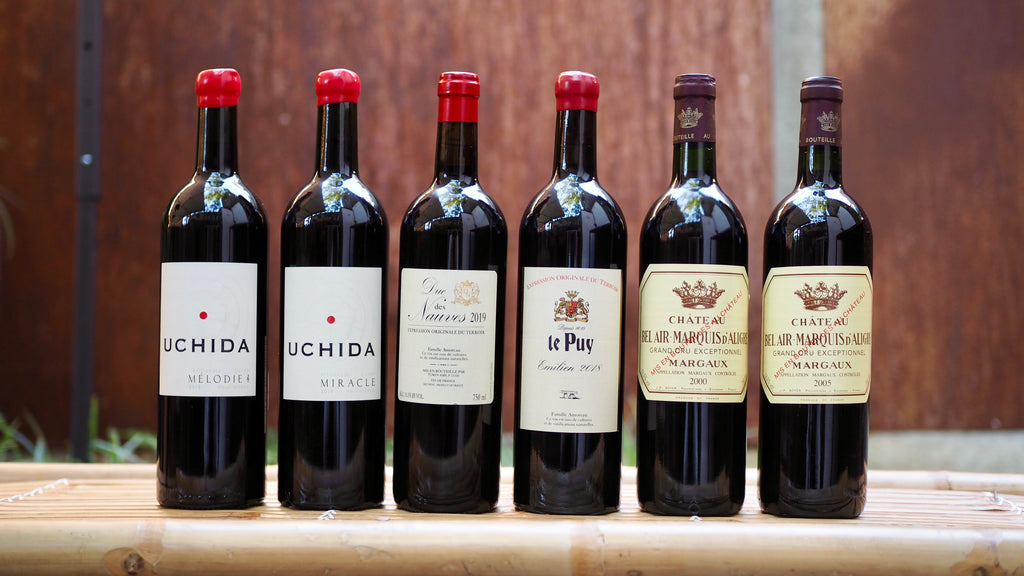 When you think old school wine, it generally doesn't get more old school than the wines of Bordeaux.

At an unnamed wine merchant where I used to moonlight in South Kensington, about 70% of sales seemed to be for bottles of Claret to red-nosed older gentlemen. Occasionally one might get a spicier customer coming in for a Burgundy or a Barolo, but endless Bordeaux with indentical labels was the order of the day. 

In the 12th century, the popularity of Bordeaux wines in England increased dramatically following the marriage of Henry Plantagenet and Eleanor of Aquitaine, which made it incredibly easy to import, and the rest was history. For many year, Bordeaux simply WAS the red wine. And aside from a brief dalliance with Port during the Napoleonic wars, this relationship between Bordeaux growers and British drinkers has been one of the most long lasting love affairs in wine.  

So perhaps it's only to be expected that when the natural wine revolution came to the UK, many of the esteemed wines of Bordeaux were sidelined for the more experimental wines next door in the Loire, in Beaujolais or the Jura. Combine that with a slow trend away from fuller-bodied reds, and the 'Parker-isation' of wine, and the Bordelais were left for the more conservative, monied wine drinkers. And anyway, so the received wisdom goes, Bordeaux is full of conventional winemakers dosing their grapes and chucking SO2 in  all their wines.

But is this a fair portrayal?

Maybe at one point, but there are plenty of mavericks in the region doing interesting stuff with very little added or taken away in the winery, with a simultaneous sense of iconoclasm and a respect for tradition which makes for some breathtaking and ageworthy wines. Here are 3 producers who are well worth knowing about:
Osamu Uchida - Left Bank  
Osamu grew up in Hiroshima where his parents had a wine shop, fascinated with French culture and having a strong desire to work in wine he made the trip to France in 1999. After learning some basic French, he enrolled for a course on viticulture and oenology before travelling throughout the country, working stages and visiting as many as 300 domaines over ten years. 
Like many, his vision of Bordeaux as a wine region was tainted by its old school, corporate image, but drawn to the region's long winemaking history, the quality of its terroir and buoyed by the spirit of camaraderie between independently minded vignerons there (e.g. Closeries des Moussis, Clos du Jaugueyron, Château des Graviers) he discovered another facet of Bordeaux. It completely changed his mind and he found himself settling down even though that was never the original plan!  Osamu now has just 0.60ha of 30yo vines in a tranquil spot near Cissac-Médoc surrounded by pine forests (the previous owner ploughed, never used chemicals and sold his grapes to the co-op!) from which he produces just 2,400bts in a good year. 
His gentle approach in the cellar allows him to coax incredibly supple, succulent fruit out of his vines. Osamu's wine is lifted, incredibly fine and pure, and rarely above 12% alcohol. The influence of oak is always incredibly light, with Osamu preferring elevage in older 500ltr barrels. 

Le Miracle is 100% Cabernet Sauvignon, very unusual in a region so famed for blending. Vinification and élevage are carried out in his garage just 125m away from the high-tech headquarters of Mouton Rothschild! Destalking the grapes by hand, a cool fermentation with pigeage by hand, very gentle extraction (half traditional, half carbonic maceration from the whole grapes not broken up by pigeage), no racking, short ageing in one year old oak, no fining or filtration help to produce this beautiful wine. All finesse, it has a very delicate colour, silky structure, no impact from oak, blackberry and blackcurrant fruit with an energetic fresh zing and tannins well knitted in.  

Melodie is a newer experiment with 100% Merlot. As with its counterpart Le Miracle, the use of oak is extremely restrained, using mostly old oak and letting the wine itself sing. Wonderful minerality and the varietal silky smooth tannins, that compliment intensely dark fruit. Very long finish. This is refined, next generation Bordeaux. 
Jean-Pierre Boyer - Left Bank 
Château Bel-Air Marquis d'Aligre in Margaux is run by the redoutable Jean-Pierre Boyer who, now well into his 80s, has produced 69 vintages in his life, all of them at the same propriété. What is even more remarkable is that he caused a stir in the region when he got rid of his oak barrels entirely in the 1950s (!), as he regarded them as mere marketing gimmicks. Instead he carries out a long, patient three year élevage in cement cuves, followed by a lengthy maturation in bottle before release. He only sells the the wine when it's had at least ten years to age!

In the vineyard, the youngest vines are more than 50yo while the oldest ones are co-planted and can reach over a century old. Ancient strains and lost varieties are also found among the five traditional Bordeaux varieties with none of them exceeding 35% of all plantings. These are incredibly long-lived wines (40 years plus!) that show a level of elegance, subtlety and complexity all too rare in Bordeaux nowadays. We're lucky enough to have found 2 excellent back vintages.

2005 is a really refined vintage, bright and fruity on the palate with cherry, cassis and notes of darjeeling tea plus a wet stoney mineral edge.  Old leather and fresh tobacco too as the wine opens up. Seriously complex and special. 

Meanwhile the even older 2000 which is now brick red in colour, still has some intense black cherry and redcurrant fruit, along with a growing moss-like, damp undergrowth quality. You'll also get a note of pencil shavings in there as well as something like pipe tobacco.  Wonderfully fine tannins and a medium body make this a light-on-its-feet claret especially given the age. 
Château Le Puy - Right Bank 
Château Le Puy has been in the Amoreau family since 1610 and overlooks the Dordogne River, on the same geological plateau as Saint-Émilion and Pomerol. There are 50 hectares of vines spread across 3 plots with soils made of clay, limestone and silica and all vineyard work follows biodynamics. The estate is now run by Jean-Pierre and his son Pascal who carry on the family tradition of natural fermentation and long ageing in old barrels, crafting wines of finesse, purity and outstanding ageing potential. 
Emilien is legendary in the natural wine world, a wine made with minimal intervention and no sulphur in perhaps France's most traditional and conservative viticultural regions. This vintage is powerful and structured with touches of pot pourri, concentrated red and black fruits, graphite like minerality and savoury depth on the very long finish.

For something more approachable (and entry level) Duc de Nauves is Le Puy's second wine made predominantly from Merlot with a little Cabernet Sauvignon and Cabernet Franc. A fresher, more fruit-forward wine packed with plum and blackcurrant fruit, but still with plenty of woody spice and light, savoury tones to keep it interesting.